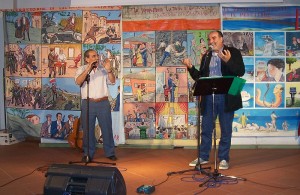 Fortunato Sindoni iniziala his forty-year career as a storyteller and folk singer songwriter, working abroad as a musician. After, itself thanks to the knowledge of American popular song (notably Woody Guthrie) includes how much cultural wealth there is in Sicily, where until the year 80 turned poets such as Ignazio Buttitta and Turiddu Beautiful and great storyteller as Ciccio Busacca, Orazio Strano, Vito Santangelo.. until you get to Mauro Geraci.
So he decided to leave teaching of languages ​​in order to devote to the job of "storyteller".
He began working with all the storytellers active in those years.
With Ignazio Buttitta worked for a few years, making tournées in Svizzera and Austria, in addition to holding recitals in many squares in Italy.
Organize gatherings of storytellers in Barcellona Pozzo di Gotto, inviting all storytellers currently active, stands out among all Rosa Balistreri , who returns often to keep the OPG recital in which it contributes Sindoni , as a volunteer, to organize recital, theater, screening of the film ...
Often abroad Europe , Australia,..) to present his stories and ballads, Sindoni writes and sings, in the Sicilian and Italian, current events: policy, actuality, Mafia, bridge over the Strait, women,…), but also does not fail to draw from the repertoire of Sicilian poets, storytellers, first of all Ignazio Buttitta of which he set to music many poems and stories.
Collaborate schools and public bodies, as well as an external expert, to hold shows and conferences-recital either alone or with Mauro Geraci, storyteller / anthropologist at the University of Messina.
Host to many national TV and foreign (RAI, ZDF, WDR, Canal , ART ...) Sindoni has recorded several albums. The last CD "BALLADS AGAINST THE MAFIA" gave him the honor of singing under the tree of Falcone on the occasion of the Commemoration of the Capaci massacre in 2009.
Heir to the old tradition of storytellers Paterno, Vito Santangelo, despite the advanced age, continues to sing and tell stories with the times and rhythms that still enchant those who have the good fortune to hear both in the streets and in the theaters of Sicily and out, where it is frequently invited to present their repertoire, always accompanied with the guitar and his ever-present posters…
Winner of several awards and Festival of Festivals of storytellers, Santangelo had a long artistic partnership with Ignazio Buttitta, which he recorded in an integral way, "The true story of Turi Giuliano", as well as other stories that the great poet of Bagheria wrote expressly for him, in order to bring her around Italy.
Some of these "stories" will be presented by the storyteller Santangelo in the course of two evenings.
Often a guest of RAI and other important foreign TV - a Japanese TV has even dedicated a long service - the storyteller Santangelo has recorded many records and cassettes.
Several scholars have written essays on Santangelo (Nino Buttitta, Sergio Bonazinga,…).
In 2006 the anthropologist-storyteller MAURO GERACI has edited and introduced the autobiographical story of Vito Santangelo titled "My Life as a storyteller" publisher Graph-Brescia.