3, 5, 8, 17, 20 and 22 July 2016 hours 18,00
"Morbello distrugge l'incanto della maga Uriella"
The show "Morbello destroys the charm of Maga Uriella" taken from old tea towels with free stage adaptation and direction by Enzo Mancuso tells the story of Rinaldo's adopted son, Morbello said Malaguerra. During the show you will see, how Morbello manages to win the Meleagro weapons, to defeat the carousel all the suitors of the beautiful Rosana and to destroy the enchantment of the sorceress spell Uriella freeing the champions Rinaldo, Orlando and Astolfo.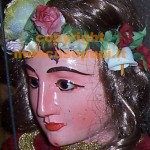 13 and 14 July 2016 hours 18,00
"RI RE Emperor Charlemagne Rosalia Sinibaldi – The story of Santa Rosalia "
On the occasion of the Feast of Santa Rosalia, the Company Charlemagne directed by Enzo Mancuso will stage the show of puppets "Re Charlemagne King Emperor Rosalia Sinibaldi".
La devozione alla Santuzza si ritrova viva nei canovacci e nella tradizione orale dei maestri pupari e la Storia di Santa Rosalia fa parte delle cosiddette serate speciali, spettacoli in cui, al teatro dei pupi, in un unico episodio si raccontava la storia di un eroe, o si raccontavano fatti e avvenimenti di una certa importanza. The show begins with the cunto as when the master cuntista
Camillo Camarda in the early 1900 affabulava la gente con le sue storie legate ai Paladini di Francia nel quartiere Borgo Vecchio in via Collegio di Maria dove dal 2003 è ubicato il nostro teatrino stabile di opera dei pupi. Si vedranno nel corso dello spettacolo le scene di quando Ruggero entra a Palermo e uccide i quattro giganti, Baldwin bravely saves the King Roger and kills the lion, Rosalie fleeing in despair after the marriage proposal made by Baldwin ....
---
3 and 5 July 2016 hours 19,30
"Traditional Songs of the storytellers bagherese Paul Zarcone"
---
Show cuntastorie
8 and 17 July 2016 hours 19,30
Racconti orali della tradizione – show Cunto by Gaetano Lo Monaco Celano
---