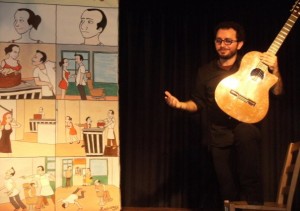 Popular storyteller Sicilian new generation, Paul Zarcone, Bagheria, definitely wears the robes of the "storyteller" by 2006, proposing componendone sing traditional and new, taken from legends and historical facts. Since then performs, carry his guitar and his posters illustrated, in many squares and theaters of Sicily. In April 2010 is invited to perform in the United States for the Italian-American community of Los Angeles and Chicago.
A Palermo, from 2009, collaborating with the Theatre of the Opera dei Pupi "Charlemagne" directed by Enzo Mancuso and the Teatrino del Canto Popolare "Ditirammu" directed by Vito Mistretta Parrinello and Rosa. His constant and intensive research and experimentation led him to initiate numerous collaborations with other artists such as the renowned Argentine tango guitarist Francesco Maria Martorana, The popular actress and dancer Elisa Parrinello and the Society of Flamenco "Guadalmedina".
The Center for the catalog and the Office for the Documentation of Cultural Heritage of the Sicilian Region, believing his work of great cultural interest, wanted to include within its Nastroteca recording of "Lamentu of the cruci", cantata composed by Zarcone and flow in the streets during Holy Week.
Many, at last, his collaborations with schools of all Sicily: from 2009 Zarcone following projects on the storyteller in the schools of the district. It is one of his forthcoming disc.