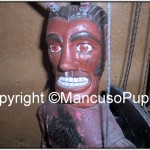 The 20, 22, 27 and 29 June the show will be staged by Pupi Siciliani
"Orlando against Agricane"

infoline: 347 5792257
Performance begins at 18.00
General admission 7,00
Reduced euro 5,00
The shows that we represent, adapt to a diverse audience of adults and children, find their highest expression in the History of the Paladins of France's right to say I
After a duel in single combat between Orlando and Ferraù under the walls of Paris to conquer the beautiful Angelica, Orlando overnight decides to leave to go in search of the Indian Princess. After various adventures and misadventures, the valiant champion free in the woods of the great stone a woman who is held captive by a giant: this girl is really Angelica. Together they decide to leave on Indian lands, where they are besieged by Agricane, King of the Tartars, who has since taken hostage Galafrone, father of Angelica. Orlando decides to confront Agricane to single combat , and to defeat the point of death to convert to the Christian faith.
Teatro Carlo Magno, by Mary College of the Village,17
(behind the President Hotel - Port of Palermo area)
N.B. The performances may vary due to circumstances beyond.
With the patronage of Charlemagne Association
Province of Palermo, Department of Tourism and Recreation
Sicilian Regional Councils BB.CC. Identity and Sicily