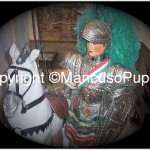 The two fugitives, Berta and Milone, during the escape from Paris in the woods together and free from the hands of two thieves who Galisena the princess telling her sad story you realize how many ways mirrors the other and together they decide to follow the same path.
Nel frattempo Carlo Magno mentre è in preda alla disperazione per l'affronto subito, nella sua stanza gli appare in visione un angelo, è decide di far solo bandire e non fare uccidere i due amanti poiché ha saputo dal messaggero di Dio che sua sorella è in gravidanza e che il bambino che porta in grembo diventerà la bandiera della cristianità; allora riunito il consiglio manda un messo al papa per informare che sua sorella e Milone sono solo banditi dalle terre di Francia e grazie all'intervento tempestivo del papa, Milone viene salvato da una sicura morte dalle mani di Ginamo e Gano.
Continuando il loro percorso lontano da Parigi, i due fuggitivi si imbarcano in una nave ma il comandante Raimondo invaghitosi di Berta decide di rapirla; sono momenti convulsi nella nave poiché Milone viene assalito dai marinai che vengono prontamente uccisi ma in seguito ad una tempesta furiosa, Milone, Berta e Galisena per salvarsi si buttavano dalla nave.
Berta riesce a salvarsi e non avendo più notizie degli altri compagni di viaggio prosegue disperata il suo cammino e nel bosco incontra prima un pecoraio e successivamente la compagna Galisena che confida come ormai sia prossima la nascita del figlioletto.
Are moments of tension for the old shepherd, the wait is unnerving until you hear the sound of weeping of a child: He was born Orlandino.
Taken from the ancient tea towels, free stage adaptation and directed by Enzo Mancuso