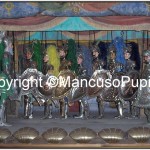 Charlemagne with his paladins in Aspromonte is to stop the army of Almonte D'Asia .
Following fierce battles in the open field where Don Light manages to scare off Almonte, On death after seeing Milo Anglante, father of Orlando.
Orlando is studying at the seminary and is visited by Astolfo. A lui manifesta il desiderio di andare in Aspromonte a combattere al fianco di suo padre. Anche Astolfo mostra lo stesso desiderio, allora pensano ad una fuga.
Alla notizia della morte del cognato, Carlo Magno decide di andare a recuperare il corpo di Milone e vendicarne la morte.
Nel frattempo al campo cristiano giungono Orlando e Astolfo. Orlando avverte un certo disagio intorno a lui, tutti lo sfuggono, solo Gano gli riferisce che se vuole trovare suo padre e Carlo Magno deve raggiungere il bosco. Intanto Carlo Magno, trovato nel bosco Almonte duella ferocemente con lui, ma questi ha le armi incantate, per cui non riesce a batterlo.
Arrivato, in quel posto, Orlando, si accorge delle difficoltà dello zio, e rimane deluso, ma approfittando di un attimo di esitazione di Al monte – a cui avevano presagito la morte per causa di un fanciullo – lo uccide con la lancia.
Orlando si conquista così le armi, la spada Durlindana e il cavallo del nemico ucciso.
Taken from the ancient tea towels, free stage adaptation and directed by Enzo Mancuso