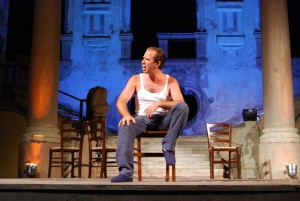 The voices of Palermo has disappeared, choked by smog from the concrete and chaos of urban, that have robbed the fragrance of orange blossoms and jasmine that emanated.
Voices forfeited by a child driven to school by her mother to seven years collides with a thousand cries of market vendors.
You are right in one of the 4 districts of Palermo that have made the history of the city and like it or not x lead in elementary school you had to go through the market district CHAPTER.
Returning home after school the child is found between the legs of his maternal grandfather (Peppino Celano) and tells his grandfather as those screams had confused, Grandpa said, in a warm embrace :this and the soul of Palermo you must treasure it, in putiara (store managers) x must sell abbanniare (decant the goods) who, as I have cuntare the deeds of the paladins of France to live x.
They are the voices that come in and hit you and enchant you and how to sing a lullaby to a child, what it e Calmano pecan. Keep them inside and distillale one day you'll understand.
Gaetano Celano il born to Palermo 16 /06 /1968 in the 'old Cape Quarter from' Arab (caput seralcaldio) Arab spice market.
Since little was equipped with a skilful craftsmanship in building .
The mother could with a small hammer ( who still owns x memory) and 50 pounds of nails bought by a cobbler close to keep him busy,Gaetano was so small there to plant them until they ran out of nails or do not crush a finger.
The love for puppets grows in him as a child imitating his grandfather who devoted himself to the construction of the puppets in front of his own theater in the alley Pilicelli 5.
Friends of the family who resided in America gave him toys,among these were the characters like Big Jim with costumes by Robin Hood and with en suite heads the Planet of the Apes .
Gaetano with scissors grandmother's, electric wire and cans of coca cola recycled armed himself with real punch with helmets,armor, leggings and swords those characters under the astonished eyes of family members, giving vita Orlando, Rinaldo and paladins inside her.
Gaetano grows in the alleys of the old Palermo breathing the air where the market echoed the abbanniate sellers and the scent of clothes hanging, flooded the streets populated where they spoke with baccagghiu.
In the family of Gaetano using slang terms such as puppeteer do not touch that knife which is a Durlindana, not be close to that friend of yours who is a Gano of Mainz or perhaps to indicate that as a child he was very lively in the mother compared him to Malaguerra.
In October 1973 his grandfather dies in a tragic accident, carrying away with him a piece of history in the ward head and a historical figure of Palermo; the family tradition seemed to be coming to an end but in that child growing up in the narrow streets lighthearted distallavano is the mastery and magic of cunti grandfather.
Digging and dusting in memory of his mother and uncle Rosario Celano, that from an early age to follow his father in his art, it was he who made me masterful telling dialect stories with gestures and posture of cuntastorie.
The stage debut at the Teatro Montevergini happens with the show I 4 cunti directed by Fabrizio Lupo.
The puppeteer and Rosalia, directed by Fabrizio Lupo Palazzo Bonagia.
The death of the master,directed by Fabrizio Lupo to Marionette Museum.
3/10/2008 Storyelling, Palazzolo Acreide Museum Antonino Uccello Cuntu.
The story of Lady Rovenza.