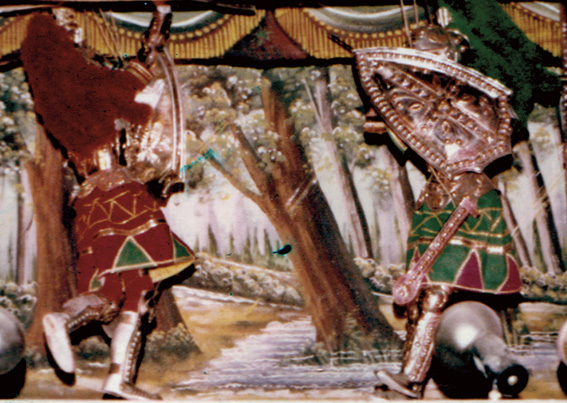 Kaksintaistelu Rinaldo ja Orlando
Il 24, 25, 29, 31 Elokuu
ja 4, 7, 11, 14 Syyskuu
Suorituskyky alkaa 18.00
Koko euro 7,00 Vähemmän euro 5,00
Teatro Carlo Magno Enzo Mancuso
kautta College of Mary vanhassa kylässä, 17
tällaiset. 347 5792257 – www.mancusopupi.it
ZWEIKAMPF VON ORLANDO UND RINALDO
Paris wird belagert, aber von dem Königshof Karls des Großen entfernten sich viele Paladine, die aus Liebe zu Angelica, auf die Suche nach ihr gingen. Auch Orlando, der erste Paladin Frankreichs und Generalkapitän der französischen Armee, verließ den Königshof, und König Karl hat keine andere Wahl, die Führung der französischen Kriegsflotte an Rinaldo zu geben. Nach einem heftigen Duell mit Rodomonte, König von Algeri, gelingt es Rinaldo, dass die Eroberer die Flucht ergreifen und in dem Wald des Laubs findet er den Orlando mit der schönen Angelica. Die beiden Paladine werden zu einem Duell herausgefordert, und sicherlich würden sie sich gegenseitig umgebracht, wenn der Zauberer Malagigi nicht eingegriffen hätte… Wenn auch die Überschrift bezieht sich auf eine der beliebtesten Geschichten aus dem öffentlichen traditionellen Puppentheater, der "Kampf zwischen Orlando und Rinaldo" ist eigentlich das Ergebnis einer Abänderung der narrativen Strukturen des "Theaterstücks", die aus der Notwendigkeit entstand, die Darstellung auf ein neues Publikum anzupassen. Ein konkretes Beispiel dafür, wie die Geschichten aufgebaut wurden, müssen wir bedenken, dass die Geschichte von Angelica etwa 20 Episoden betrug (einschliesslich die Sub-Handlungen) bis Orlando und Rinaldos Kampf zu gelangen, der etwa drei Vorführungen dauerte. Jede Episode dauerte etwa zwei Stunden. Das aktuelle Schauspiel, unter Berücksichtigung der Anforderungen eines beiläufigen Publikums, fasst die drei Episoden zusammen und umgeht den grössten Teil der Vorgeschichte und gibt sowohl eine Improvisationsspanne. Diese Flexibilität der dramaturgischen Handlung ermöglichte, das Verschwinden des eigenen Kundenkreises des Theaterstücks zu überleben und schützte es vor dem lediglich Museums- und banal folkloristischen Genuss.
DUELO DE ORLANDO Y RINALDO
Paris está bajo asedio, pero de la corte de Carlo Magno se alejaron numerosos paladines, que perdidos de amor por Angelica, parten en su búsqueda. Inclusive Orlando, que es el primer paladín de Francia y capitán general del ejército francés, abandonó la corte, y al rey Carlo no le queda otra opción que confiar la dirección de la armada francesa a Rinaldo. Tras un violento duelo con Rodomonte, rey de Algeri, Rinaldo logra que los invasores se den a la fuga y adentrándose en el bosque de las hojas encuentra a Orlando con la bella Angelica. Los dos paladines se retan a duelo, y seguramente se hubiesen matado mutuamente si el mago Malagigi no hubiese intervenido…Aún cuando el título retoma una de las historias más queridas por el público tradicional del teatro de títeres, el "Combate entre Orlando y Rinaldo" es en realidad el resultado de una modificación de las estructuras narrativas de la "obra" que nació de la necesidad de adecuar la representación a un nuevo público. Para poner un ejemplo concreto de cómo se articulaban las historias, debemos considerar que la historia de Angelica comprendía alrededor de una veintena de episodios (incluidas las sub tramas) para llegar al combate de Orlando y Rinaldo, el cual de por sí duraba más o menos tres presentaciones. Cada episodio duraba alrededor de dos horas. El espectáculo actual, teniendo en cuenta las exigencias de un público ocasional, sintetiza los tres episodios y obvia la mayor parte de los antecedentes dejando al mismo tiempo cierto margen a la improvisación. Esta flexibilidad de la trama dramatúrgica le permitió a la obra sobrevivir la desaparición de su propia clientela y la salvaguardó de un disfrute meramente museográfico y banalmente folclórico.
DUEL BETWEEN ORLANDO AND RINALDO
Paris is sieged, but numerous paladins, consumed with love for Angelica, leaved the court of Charles the Great to go and find her. Even Orlando, who is the first paladin of France and general of the French Army, abandoned the court, and King Charles has no alternative but to entrust the direction of the French Army to Rinaldo. After a violent duel with Rodomonte, King of Algeri, Rinaldo manages to put invaders to flight and going deeper into the woods of the leaf, he finds Orlando with the beautiful Angelica. The two paladins challenged each other to a duel and they would have probably killed one another if Malagigi the magician had not intervened…Although the title reintroduces one of the stories that the traditional public of puppet theater loves the most, the "Combat between Orlando and Rinaldo" is actually the result of some modifications made to the narrative structures of the "play" that emerge from the need to adapt the representation to a new public. In order to give a concrete idea of how stories were articulated, it is necessary to consider that Angelica's story comprised around twenty episodes (including secondary plots) before reaching the struggle between Orlando and Rinaldo, which lasted around three performances itself. Each episode lasted about two hours. The present show, taking into account the requirements of an occasional public, synthesizes the three episodes and omits most of the background, leaving however certain margin for improvisation. This flexibility of the plot allowed the play to survive the disappearance of its own audience and to be protected from a merely museological and banally folkloristic enjoyment.
DUEL DE ORLANDO ET RINALDO
Paris est en état de siège, mais de la cour de Charlemagne se détourna de nombreux paladins, qui amoureux d'Angelica, partent pour la rechercher. Même Orlando , le premier paladins de France et capitaine général de l'armée française, a quitté la cour, et le roi Charle n'a pas d'autre choix que confier la direction de l'armée française à Rinaldo. Après un duel violent avec Rodomonte, roi d'Alger, Rinaldo fait fuir les envahisseurs et dans la forêt trouve Orlando avec la belle Angelica. Les deux paladins se sont battus en duel, et il se seraient sûrement tués, si le magicien Malagigi n' avait pas intervenu … Même si le titre fait référence à l'une des histoires les plus aimées du public traditionnelles du théâtre de marionnettes, le « Combat entre Orlando et Rinaldo » est en fait le résultat d'une modification dans les structures narratives « de la œuvre » qui est née de la nécessité d'adapter la représentation à un nouveau public. Pour mettre un exemple concret de la façon dont les histoires étaient articulées, nous devons considérer que l'histoire d'Angelica comprenait environ une vingtaine d'épisodes (les sous-trames y compris ) pour arriver au combat d' Orlando et Rinaldo, ce qui, en soi, durait environ trois présentations. Chaque épisode durait à peu près deux heures. Le spectacle actuel, en tenant compte des exigences d'un public occasionnel, résume les trois épisodes et, omet la plupart des antécédents permettant à la fois une certaine place à l'improvisation. Cette flexibilité de la trame dramaturgique a permis que l'oeuvre puisse survivre à la disparition de sa propre clientèle et l'a sauvegardée de rester tout simplement comme une pièce de la muséologie et banalement folklorique.
Kaksintaistelu Rinaldo ja Orlando
Parigi è minacciata d'assedio, ma dalla corte di Carlo Magno si sono allontanati numerosi paladini, che presi d'amore per Angelica, si sono messi alla sua ricerca.
Anche Orlando che è il primo paladino di Francia e capitan generale dell'esercito francese, ha abbandonato la corte, e a re Carlo non rimane che affidare a Rinaldo il comando dell'armata francese. In seguito ad un aspro duello con Rodomonte re d'Algeri, Rinaldo riesce a mettere in fuga gli invasori e inoltratosi nel bosco della foglia incontra Orlando con la bella Angelica. Kaksi Paladins kaksintaistelussa, si sarebbero sicuramente uccisi a vicenda se a dividerli non fosse intervenuto il mago Malagigi…
Anche se il titolo riprende una delle storie più care al pubblico tradizionale dell'opera dei pupi, il "Combattimento di Orlando e Rinaldo" è in realtà il risultato di un ripensamento delle strutture narrative dell' "opra", nato dall'esigenza di adeguare la rappresentazione ad un nuovo pubblico. Per dare un esempio concreto di come si articolavano i racconti, bisogna pensare che la storia di Angelica comprendeva all'incirca una ventina di episodi(inclusi gli intrecci secondari) per arrivare al combattimento di Orlando e Rinaldo, il quale di per sé durava più o meno tre serate. Ogni episodio durava circa due ore.
Lo spettacolo attuale, tenendo conto delle esigenze di un pubblico occasionale, condensa i tre episodi e tralascia la maggior parte degli antefatti, conservando però un certo margine all'improvvisazione. Questa flessibilità del tessuto drammaturgico ha consentito all'opra di sopravvivere alla scomparsa della propria committenza e salvaguardarla da una fruizione meramente museografica e banalmente folcloristica.